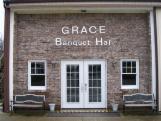 With its clean spacious layout, inviting décor, ample on-site parking, and other amenities, Grace Banquet Hall is the perfect place to host your next event. From birthday parties to wedding receptions, club meetings to seminars, church dinners to corporate galas, Grace Banquet Hall has you covered.
We are committed to providing our community with a clean, comfortable, and safe environment for families, businesses, and organizations to use as a gathering place. As a part of this commitment, and for the safety, comfort, and well-being of your guests, our facility is alcohol-free and smoke-free*.
Best of all, we are affordable and accessible.
While there are a variety of fine facilities available to choose from in the Greenfield/Hancock County area, many of our clients find they simply do not meet their budgetary, time, size or special needs. With seating for 100-125 people, affordable pricing options, handicap parking/accessibility and hours of availability (8am-11pm, 7 days a week), our clients are able to choose a facility that is "just right" for their event.
For more information about our pricing, facility, photo gallery, amenities, requirements or availability, please visit our Services area.
For more information on where we are located and driving directions/map, please visit our Location area.
For more information about our company or to contact us, please visit our About Us area.
Thank you for considering Grace Banquet Hall for your next event. We look forward to serving you soon!
* No alcohol is permitted inside or outside of the facility. Smoking is not permitted inside the facility, but is allowed outside provided butts are disposed of properly and safely.